TikSave.io - Best TikTok Downloader 2023
How to download TikTok video without watermark? This is a question that many TikTok users are interested in. In this article I will show how to download video from TikTok without watermark with TikSave.io's TikTok downloader.
TikSave.io is a free TikTok downloader that allow download video on TikTok in the best quality. Download TikTok videos on a web browser, support all PC, tablet, iPhone, Android devices.
In addition, TikSave.io also allows download TikTok MP3 in high quality. Just paste the TikTok link into the input box on TikSave and you can download any video in .mp3, .mp4 format quickly.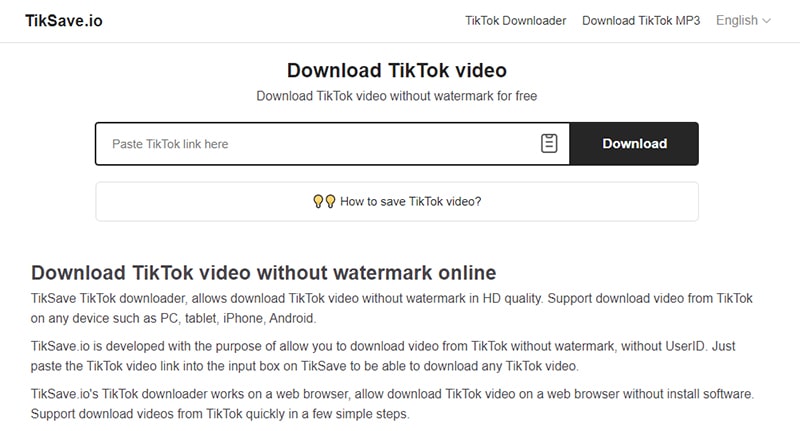 Online TikTok Downloader
Features of TikSave
- Unlimited Download: Download TikTok video without watermark and TikTok MP3 without any limitation.
- MP3 & MP4 Support: Download TikTok Video in MP4 HD & TikTok MP3 format, download TikTok Video in MP4 & MP3 format.
- Easy Download: We are the Fastest TikTok Video Downloader. Download any TikTok video without watermark Easily with TikSave.
How to download TikTok video with TikSave
Step 1: Open the TikTok app on your phone or visit the Tiktok.com website.
Step 2: Find the TikTok video you want to download and click the Share button in the lower right corner of the video and continue to press the Copy link option.
Step 3: Go to TikSave.io website, paste the copied TikTok link in the search box and press the Download button.
Step 4: Press the Download MP4 or Download MP3 button and wait a few seconds for the file to download to your device.
If you find this tool useful, please support us by recommending this tool to your friends and family for everyone to know and use together. It was a huge help to us.
During use, if you encounter an error, please contact us for support: [email protected]